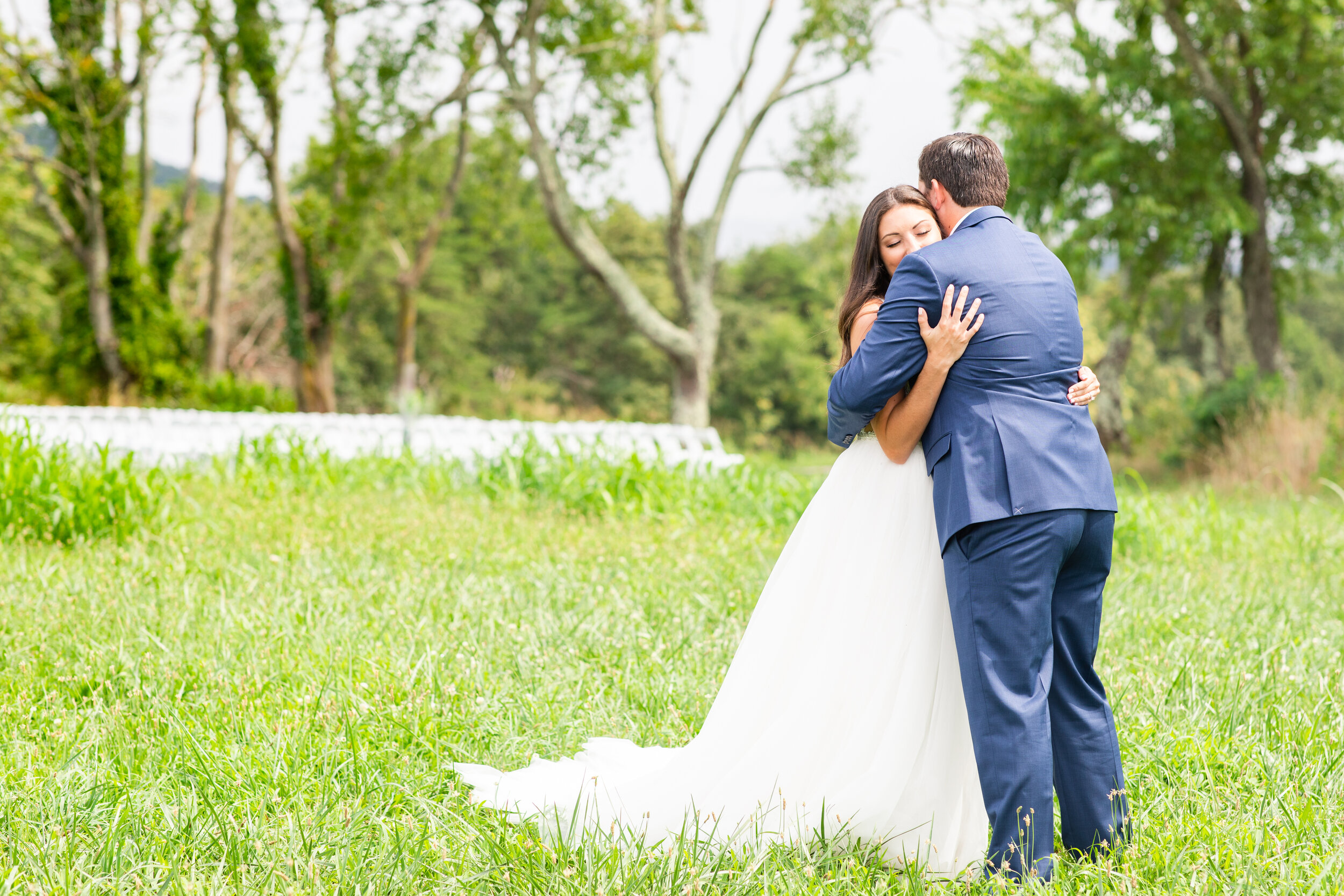 WEDDING WEDNESDAY WITH EM SERIES | LYNCHBURG WEDDING PHOTOGRAPHER
---
I am SO excited about this topic! If you have followed me for any amount of time you probably know how I feel about First Looks on a wedding. If you are new the world of weddings and have NO IDEA what a First Look is I want to explain.
A First Look is a private moment the bride & groom share together (with their photographer & videographer present too) before the ceremony. The first look doesn't replace the aisle effect by any means, but technically speaking the groom will see his bride before the ceremony. And yes, this isn't "traditional" but not many people know the history behind this tradition!! So if you are interested in learning more about that, check out this article HERE. It's definitely NOT ROMANTIC and like a fairy tale. Some people may say it is bad luck for the marriage if the bride and groom see each other before the ceremony,
but I think a successful marriage is built on much more than luck…
James and I shared a first look on our wedding day and I have to say that we are a huge fan because of this. That time together created memories that last a lifetime and the photos we took right after our first look are my FAVORITE portraits of the day! So as I share my 10 reasons to share a First Look on your wedding day, keep in mind I experienced this on my wedding day and I speak as both a previous bride and a wedding photographer that has over 4 years of experience with weddings!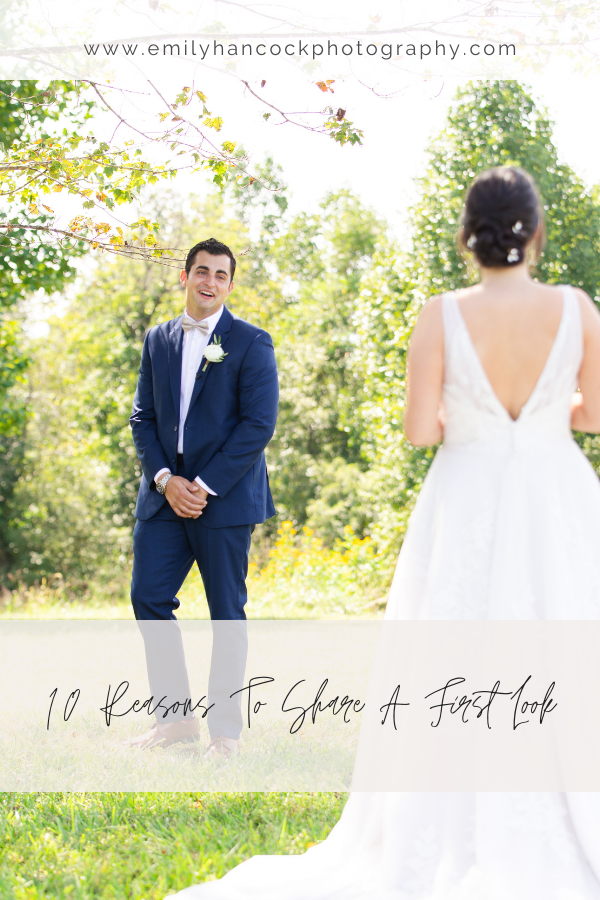 #1 REMOVES PRESSURE ON THE GROOM
There is SO much pressure on the groom on wedding days. Like the amount of pressure that guests, family, and bridal party put on his reaction is more than I could ever bare… Sharing a private moment together takes this burden off his shoulders and he can relax with his best friend, aka his lovely bride on their best day ever. Your guests and family can watch your video and see the photos from that special moment later because this moment is all about you two!
Also a note to my brides, if your man is going to cry at the alter he's going to cry both times he sees you! Basically what I'm saying is… if he's going to cry at all he will but if he isn't then please don't be upset. I know you've probably heard the famous quote "If he doesn't cry when I walk down the aisle then I am turning around". See how much pressure is on him to be emotional? I find even my more timid and tough guys let loose during first looks because they don't have 50+ people staring at them!
I know the real magic of the moment is being able to witness and feel the love between you and your best friend. Everyone wants to see it but the fact that everyone is there may prevent that from happening?? So definitely consider doing a first look so that your groom doesn't feel pressured.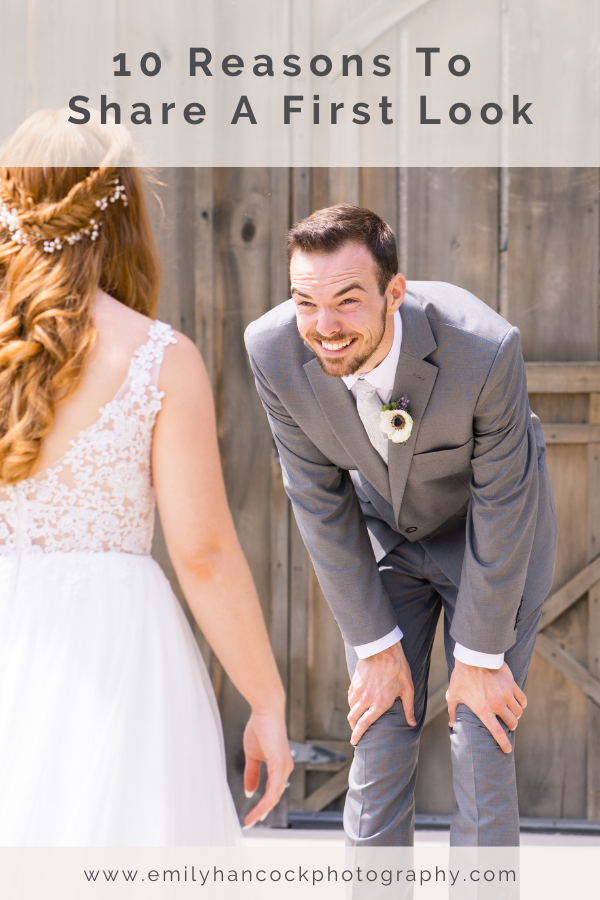 #2 YOU CAN HUG & TALK TO EACH OTHER
So once the bride walks down the aisle and the groom has seen her for the first time, all he can do is smile. There is no time to embrace each other and talk to each other! Usually the first thing our grooms say to our brides during a first look is "WOW. You look beautiful" and gives her the most intimate and sweet hug ever!
This can't happen at that alter because the pastor takes over and starts the ceremony immediately. So if one of your love languages is "touch or time" sharing a first look is for you!! And I can tell you that every time I see a grown man weep over his bride and collapse in her arms from seeing her in her dress, that makes me cry too!!
#3 HAIR & MAKEUP TOUCH UPS
This one is mainly for the ladies but could apply to guys in the hot months too! During the warmer months having a first look could be helpful to have the opportunity to touch up hair, makeup, sweatiness, etc. This way you are fresh for photos together after the first look, as well as the ceremony! In the colder months, this gives you time to warm up before the ceremony. Icy blue hands are not a great look in photos so taking a few different trips out in the lower temps is definitely preferred!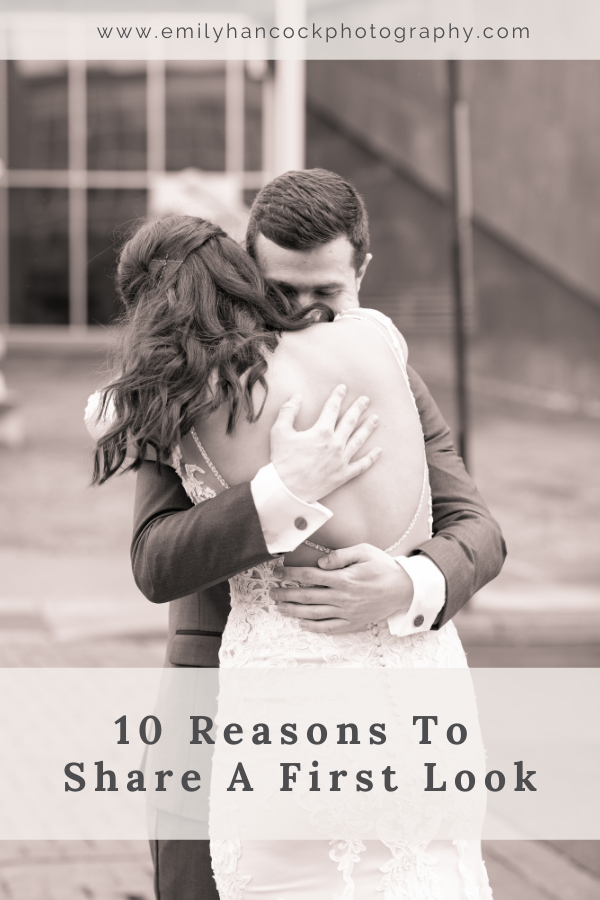 #4 RARE INTIMATE MOMENTS
A more obvious reason is to have quiet moments together. If you have been to a wedding before you know that after the ceremony, events during the reception keep the night going quickly until the exit. This entire time you are talking to guests, taking photos with friends and family, dancing, eating a little bit, cutting the cake, etc. Before you know it, you'll be running through your sparkler exit and all that time you haven't really been able to be with each other. There is no time for just you two to soak up the day without a first look.
Sharing a first look can allow time alone for just you two. I really mean alone! We've actually done a first look where the bride and groom requested 10 minutes of time together just them with no photo or video present. Kala and Garrett took this time to pray with one another, walk around their venue taking in their day, and share a moment that truly only they have. James and I will capture the reveal and the few moments after but if our couples want time truly alone then a first look allows time set aside before the day gets busy.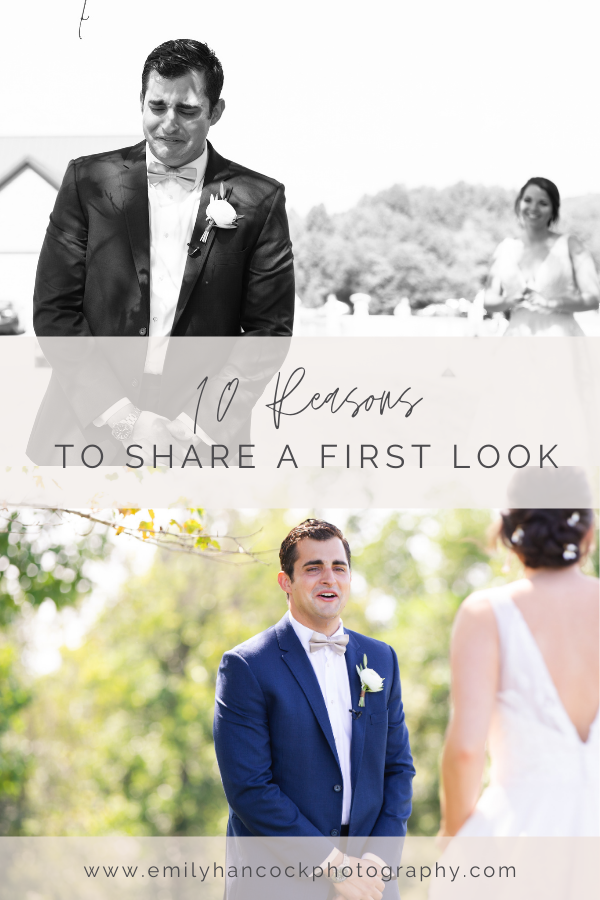 #5 WELL DESERVED BREAKS FROM PHOTOS
This is one of the biggest reasons I recommend a first look!! Grooms, this one is for you my friend!! So I'm gonna break it down timeline wise because I am a visual learner. This is a sample timeline that we have done before in the summer months when sunset is about 8 PM:
5:00 – 5:30 PM Ceremony
5:30 – 6:00 PM Family Formals
6:00 – 6:15/20 PM Bridal Party Photos
6:15/20 – 6:50 PM Bride & Groom Photos (1st opportunity for 30-40 minutes of portraits)
7:00 PM Reception Starts
7:45 PM Bonus Sunset Portraits
(2nd opportunity for 5-10 minutes of portraits)
10:00 PM Exit
So what I see here is what is pretty standard for a "traditional" wedding day. However, what some couples don't realize is that from 5PM until 7 PM THERE IS NO BREAK FROM BEING IN PHOTOS. This means that by the time we start bride and groom photos (in the golden hour light) the smiles become tired smiles and sometimes the grooms are just DONE and I can't blame them?? Especially the ones who don't like photos to begin with… And we can tell very easily when they are annoyed and done by their energy and it can be seen in the photos.
I want you both to enjoy your photo experience with us and enjoy time with your guests. So by sharing a first look, there will be tons of breaks throughout the day with photos mixed in. Even though the time in front of our cameras is increased overall, it won't feel like it and it's not all at once!!
So check out the difference in this timeline with a first look:
2:45 – 3:30 First Look and
Bride & Groom Portraits (1st opportunity for 30-40 minutes of portraits & time alone)
3:30 – 345 PM Bride & Bridesmaids Portraits and
Groom & Groomsmen Portraits (at the same time)
3:45 – 4:15 PM All Bridal Party
4:15 – 5:00PM Rest & Retouch (Before guests arrive & a break from photos)
5:00 – 5:30 PM Ceremony
5:30 – 6:00 PM Family Formals
6:00 – 6:10 PM Newly Married Photos
(2nd opportunity for 5-10 minutes of portraits)
6:15 Reception Starts
(An extra 45 minutes with your guests enjoying your day!)
7:45 PM Bonus Sunset Portraits
(3rd opportunity for 5-10 minutes of portraits)
10:00 PM Exit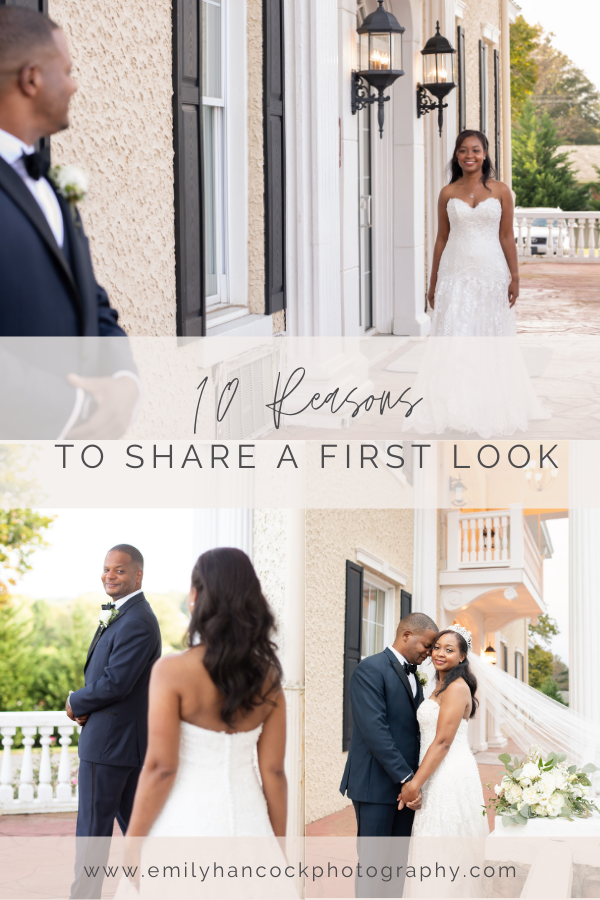 #6 MORE PHOTOS OF YOU TWO
As you can see in the timeline examples above you can see plain as day that the opportunities for photos goes up which means MORE PHOTOS!! You only get one shot at remembering your wedding day so the more time we have with you to grab incredible images the more you have to choose from to hang on your wall or design your album! I know the guys may not like this perk of a first look but see reason #5 to understand why he would probably will like it more!!
This also takes the pressure off of me if I'm being honest! I consider the first 15-20 minutes of portraits to be the time I get the essential wedding day photos. This means that the rest of the day we can create with shots that magazines and large wedding blogs look for. However, if all I have is 30 minutes to grab portraits that doesn't always allow time for me to get really creative and take epic shots.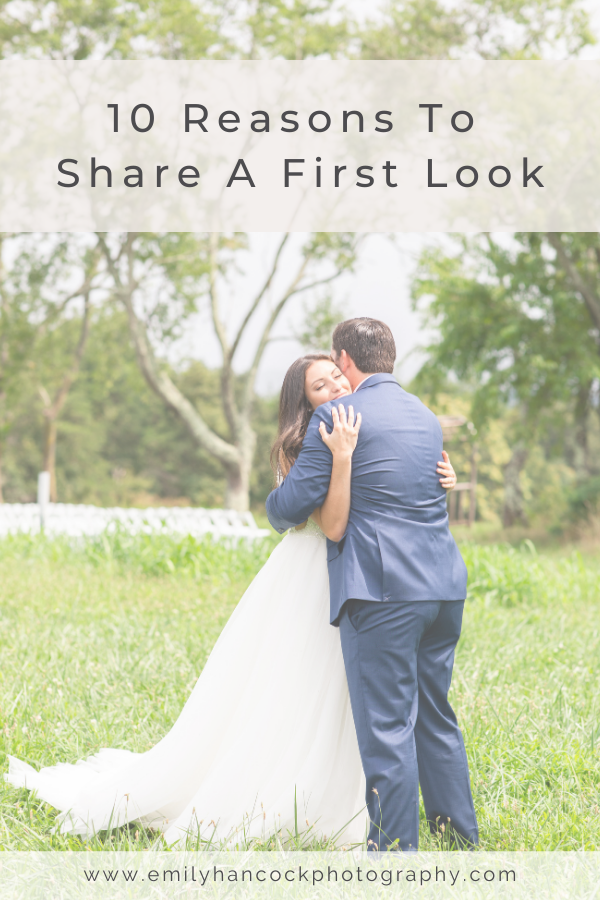 #7 BEST LIGHTING FOR YOUR EPIC PORTRAITS
So technically speaking the best light is in the golden hour which is about 1 hour before the sunsets. However, not all venues are created equal when it comes to the light!! Sometimes for venues downtown the best light like is 2-3 hours before sunset because the buildings take away the glow earlier. By sharing a first look, James and I can have 2-3 opportunities to use the perfect light at your venue!
I think it's really important that you know we can photograph any time from sunrise to sunset with our gear and education. The earlier photo opportunities can result in beautiful images!!! So don't let any photographers say it's not possible because it can be, however, the good light might be harder to find.
The good thing is we can get the traditional and expected poses for family prints before the ceremony so that way we can get CREATIVE during the best light! The portraits taken in the best light of the day will be ones that hang on the walls in your home and the features in magazines!
#8 SPEND MORE TIME WITH YOUR GUESTS
This is actually taking into consideration your guests and bridal party! I think we have all been to a wedding as a guest where the photographer and videographer took FOREVER taking photos. The experience as a guest is: Arrive to ceremony (some early some late), sit in the weather of the day for 20-30 minutes, then they wait another 1.5 hours for the couple to finish up their photos! Meanwhile the bridal party is hidden away because they are waiting to finish their expected photos so they can finally let loose! And who gets the blame for taking so long? Photographers and Videographers.
HOW RUDE of these vendors to take up so much time am I right?!
Well, what if there was a way that your bridal party could be FINISHED with their photos early and once the ceremony was over their "duties" of the day could be done and they could enjoy the rest of the day?! What if your hangry guests could enjoy cocktail hour for 30-40 minutes, be able to see you and hug you earlier, AND eat dinner early?? Well I'm here to say that there is a way!
In all seriousness, sharing a first look allows your bridal party to ENJOY the cocktail hour with your guests (and probably their significant others) and the reception can start way sooner. You can see your guests during cocktail hour or have an extra 30-40 minutes to your reception! Everyone loves eating earlier than expected right?? Your guests want to see you and congratulate you! Giving them time early on will make your guests so much happier than grumbling about being hungry because they've waited over an hour for the reception to start.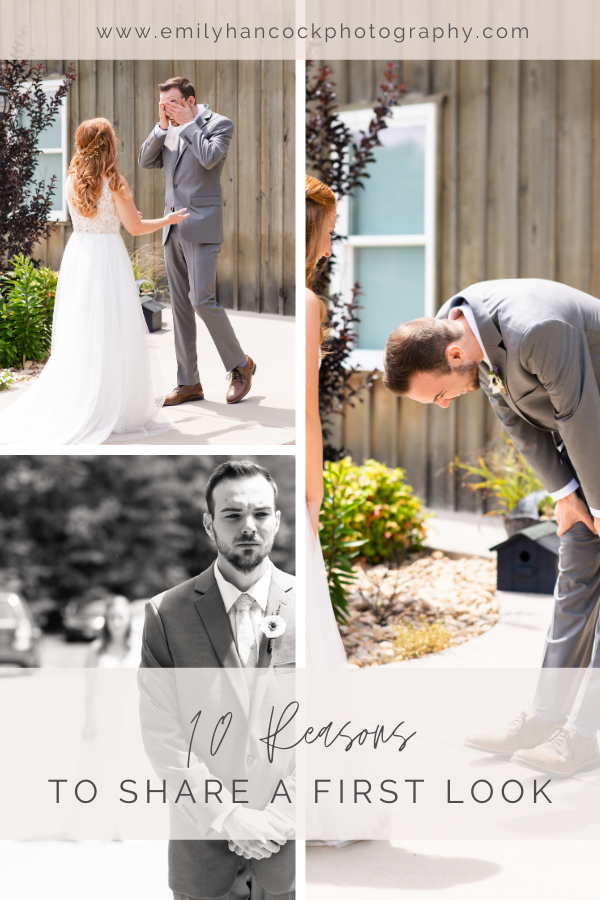 #9 INSURANCE POLICY FOR YOUR PHOTOS
This is another HUGE perk of the first look timeline. I'm not talking about an official document of insurance either. After my 4+ years photographing weddings, I have workflows in place to make sure I don't lose any photos from our wedding days but that's not what I am talking about here either.
As your photographer, I can do everything to the best of my ability to handle every situation that comes up or avoid it all together. However, I cannot do a thing about the weather. I cannot tell you how many times a first look has saved the day from a rainy forecast!!
There have been so many weddings where rain forced an outdoor ceremony inside at a venue that has a view like nonother. My couples usually invest in a venue because of the views and scenery! One wedding in particular would not have gotten the portraits they wanted outside had they not shared a first look. It rained like cats and dogs 30 minutes before their ceremony until the next day!
So yes, technically speaking they didn't have 3 times that day for photos. They had 1 long hour for their portraits and first look and then we snuck out during reception to grab some fun ones in the rain with umbrellas. I'm so glad they did because if they kept it traditional they would have only had rainy photos and NON of them would have had the epic view of the blue ridge mountains in the background (which is why they booked the venue).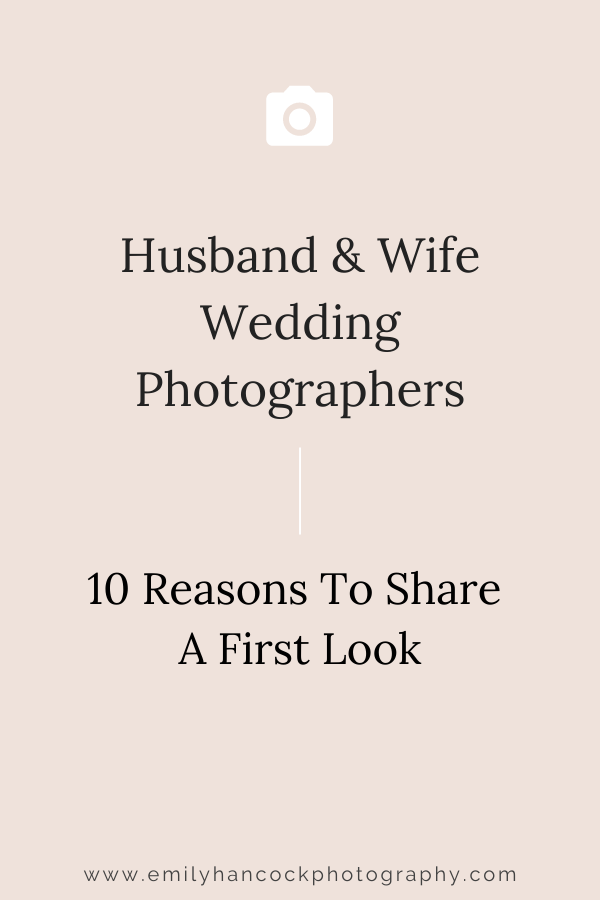 #10 WINTER WEDDING TIMELINES
This is for my couples booking wedding dates in the months of November-March!! If you book with James and I, you have invested in a bright and natural style of edited photos. I love true to life color in my images but that requires natural light. No matter what time of year it is, we can provide beautifully lit images that reflect our style but I have to have natural light.
So what does this mean for my winter brides here in VA? It means there are two timeline options:
1) The traditional timeline (without a first look) with a ceremony starting NO LATER than 2:30/3 PM.
2) The First Look timeline with a ceremony starting any time of the day. This could be a 5 or 6 PM ceremony time.
Basically, either timeline allows us to get your bride & groom portraits, bridal party portraits, and most of your wedding details in natural light. We do have flash equipment for receptions all year long but we do not deliver images like you see on my blog or website using a flash. At this time, we cannot deliver bride and groom portraits with our style using only flash.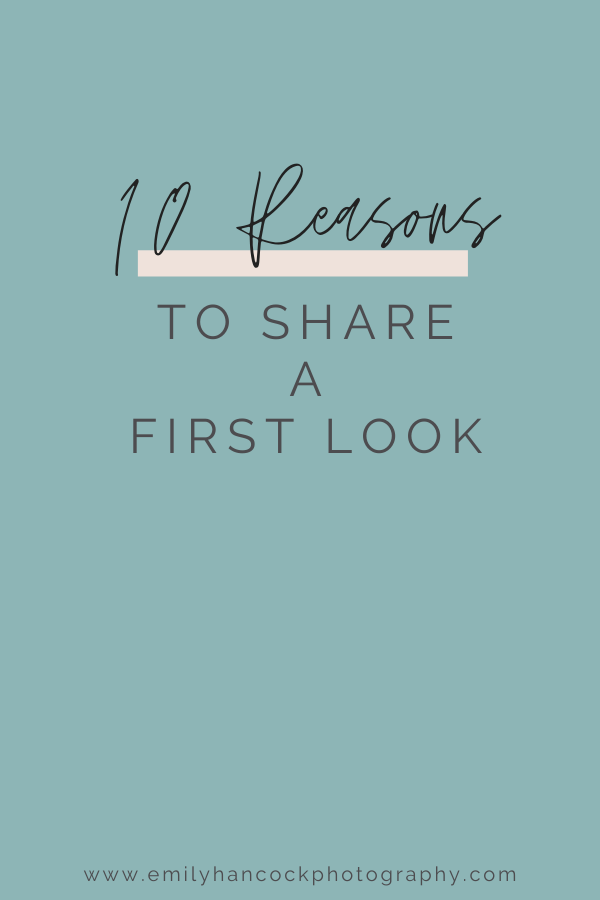 So now that you know the perks of a First Look tell me your thoughts in the comments!! Are you still on the fence or hesitant?? I have a post headed your way next time that will help you if you are on the fence!! So stay tuned for my post on 5 First Look Myths Debunked!!
---
And just in case, here is a little recap for ya on my 10 Reasons to do a First Look!!
Removes Pressure on the Groom
You Can Hug & Talk to Each Other
Hair & Makeup Touch Ups
Rare Intimate Moments
Well Deserved Breaks From Photos
More Photos of You Two
Best Lighting For Your Epic Portraits
Spend More Time With Your Guests
Insurance Policy for Your Photos
Winter Wedding Timelines
Until next time,
---