WEDDING PLANNING SERIES | ROANOKE WEDDING PLANNER
---
This wedding planning series continues this week as we discuss WHY you need a wedding planner. In last week's post (Check that out HERE), we talked about which wedding vendors to splurge on and what was #1 on that list??
A PLANNER!!
I gave an example of a previous wedding where I had to sacrifice some candid shots in the bridal suite to help out the baker who brought in the cake. That was just one example of how it affects me, as the wedding photographer, on the wedding day. If no planner or coordinator is present, things slip through the cracks.
AND IT'S NOT MY BRIDE'S OR HER MOM'S FAULT!!
They have never planned a wedding before! It makes me so sad because I feel like I am not doing my job well capturing the wedding day when their other vendors come to me with questions.
Here is another example:
The bride and her girls were getting ready at another location about 15 minutes from the ceremony site. No one realized that there were not enough vehicles at the bridal suite.
They didn't have enough transportation for the 6+ women in the bridal party, their dresses, and their bags. It's no one's fault?? But in order to problem solve and keep everyone on time, James and I, the photographers, had to come up with a solution. We ended up leaving the bridal suite early (sacrificing 20 minutes of bridal detail & candid bridal suite photos) to get the girls to the venue.
James and I crammed as many people as we could in our little Subaru but we had all our gear to move around too. Because a few trips had to be made, the bride and bridal party ended up behind schedule too.
A planner or coordinator would have planned out the cars available at the bridal suite and made sure this problem wouldn't happen. Because they are trained to think logistically all the time!!
A BRIDE SHOULD ONLY HAVE TO WORRY ABOUT BEING A BRIDE ON HER WEDDING DAY!
Transportation should never be her concern. Little moments like this are what affect the timeline. If the timeline gets thrown off, the photos and moments captured suffer!
So after discussing the vendors from last week I took a deeper dive into asking Chelsea: Why is it important for brides to hire a planner?? They are an investment for the wedding day but it really is WORTH EVERY PENNY!!
So enjoy this interview with Chelsea, One Fine Day Events Planner as she shares 5 reasons to hire a wedding planner!
---
Pro Tip: If you hire a planner from the very beginning of the planning process they can actually save you money!! Basically, their work pays for itself and then some!!
REASON #1 PLANNERS SAVE YOU TIME
"Most people don't realize that planning a wedding takes hours upon hours (up to 200-300 hours in some cases) to accomplish. And with most people or those that have people that say will "help" them, they already have a full-time job.
So where will that time come from?
Hiring a planner will drastically drop the number of hours you have to spend planning alone or take away hours completely as they will handle it for you."
REASON #2 PLANNERS ALLOW YOU TO FOCUS ON YOUR FUTURE TOGETHER
"Wedding planning is stressful and it shouldn't be. Most couples have never planned an event like this before and they feel like it is easier than it actually is. There are so many moving parts and each part has its long list of questions that need to be answered before things are set in stone.
Having someone who is experienced and knows what questions will need to be answered can help you think about these things before you even consult with that professional about their services.
Personally, I make sure that my full-service clients get a break scheduled during this time.
I let them know upfront, after we have a game plan in place, that for this time frame we will not be doing anything related to wedding planning. This is for them so they can either enjoy a vacation together or just get a break from it all and focus on being together.
I want my couples to look back on the entire experience and feel like it was smooth and enjoyable. I encourage all of my couples, who are not full time planning, to do the same thing to avoid burnout."
REASON #3 PLANNERS SAVE YOU MONEY
"Cost savings. I work to pair my couples with professionals. I always highly encourage this for every area of their wedding. I also want to pair them with someone that fits their budget and vision. It is really easy to get caught up in Pinterest or an arrangement you saw at a friend's wedding, but those are not always realistic for their budget and that is okay!
My job is to listen to what you want, educate you on what that entails and then help you find someone who can bring that to life, all within the budget you have set.
Now, not all budgets are realistic and some compromises need to be made, but again, that is where I come in to offer up options.
One thing I never do though, that some planners may, is ask another professional for a discount to match the budget. If I am working with someone from my preferred list I already know they are coming back with their best foot forward for the work they are proposing to do and I believe they should be valued at what they quote.
If it is a quote higher than what we expected then we go back to the drawing board and ask that vendor what they professionally recommend we do to get us to the amount we need to be at."
REASON #4 PLANNERS HAVE ALL THE ANSWERS
"Decision Fatigue Relief: This is similar to the stress you may feel while planning. You find yourself booking everyone right away and you feel a sense of pride that you did so much so far in advance. Then you start getting closer to your wedding and everyone you hired is emailing and calling with a million questions for finalizing the details.
You thought you were done, but on top of the things your vendors are asking, you have guests, family members, your wedding party all asking things too.
I believe the 2-3 months before the wedding can be more stressful than finding your vendors. Having a planner on your team elevates most if not all of this decision fatigue. I have a planning document that gets filled out, either by you or together depending on what services you go with, that help you answer these questions along the way.
To date, this document has saved me and my couples in more ways than I can count. When someone came at me or my couple with a question, 9 times out of 10 we already had it answered.  A good planner has all of these tiny little detailed questions answered before the question is even asked, leaving everyone able to breathe easy as the day gets closer."
REASON #5 PLANNERS ALLOW YOU TO ENJOY YOUR WEDDING DAY
"You get the experience you deserve. When you hire a planner, you typically are picking a package where they will be on-site with you for your rehearsal and the day of the wedding. When you do this, you, your family, your guests, your vendors, all get the experience deserved.
Your vendors don't have to ask you a million questions on the big day (they ask me, the planner if they have any), your guests see a wedding that flows smoothly with little downtime that drags because we ensured the timeline fits the space and time allotted, and most importantly, YOU and YOUR FUTURE SPOUSE get to have a wedding day you have been dreaming about from the beginning.
No one should have to feel like they are "working" and making decisions on their wedding day.
All of those decisions should have been made prior to that day and it is my job, as your planner, to execute them as we have discussed. Can you make changes on the day of your wedding? Of course, you can. Your timeline is not set in stone. And we are there to help execute those changes for you so all you need to worry about is creating the memories you deserve."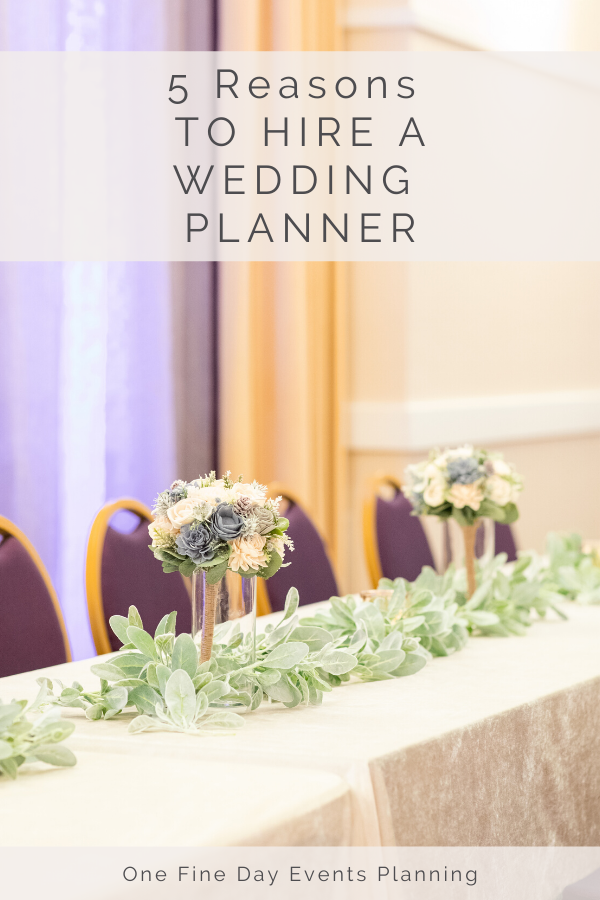 To recap, here are the 5 reasons to hire a wedding planner:
PLANNERS SAVE YOU TIME
PLANNERS ALLOW YOU TO FOCUS ON YOUR FUTURE TOGETHER
PLANNERS SAVE YOU MONEY
PLANNERS HAVE ALL THE ANSWERS
PLANNERS ALLOW YOU TO ENJOY YOUR WEDDING DAY
As a former bride, I have NO IDEA what I would have done without Debbie helping my mom and I throughout the entire process! I truly believe that every bride needs to have this support system in the planning process.
I remember having fights with my mom on what the table centerpieces would be, I wasn't realistic with a budget and mom was. Debbie very lovingly helped us both compromise in decisions and her knowledge of all our plans made her job on the wedding day that much easier.
So if you are newly engaged, I highly recommend taking advantage of Chelsea's FREE CONSULTATIONS!! I know once you meet her, you're gonna love her and want her to help plan your wedding day! I hope you enjoyed her sharing 5 reasons to hire a wedding planner! DM me on instagram if you'd like more content just like this!
Until next time,
Learn more about Chelsea and One Fine Day Events and schedule a free consultation!!
Schedule A Free Consult