EMILY HANCOCK BRIDE REUNION | LYNCHBURG WEDDING PHOTOGRAPHER
---
This post is so surreal to me. I have had dreams of doing this for my bride tribe for over a year now!! These women have blessed me so much with their friendship and have been such wonderful supporters of our business. So to celebrate and spoil my girls, I wanted to host a girls day just for my Emily Hancock Brides!!
This time last year I was in the midst of the best education course where my educator, Katelyn, challenged all 600+ students to step it up a notch for our couples! So what better way to step it up than to have my previous and 2020 brides join me for a girls day?!
To be completely honest, I was TERRIFIED.
I had never done something like this before and I was so concerned I would forget something important (even though I made a few lists and confirmed the details multiple times). In the end, I am so glad I did this with my girls. I wish we could meet up once a month for a girls day but if we did that, we would live inside a succulent jungle and our husbands may not approve of this…
When I originally thought of ideas for this event I sat down and listed out 10 things I LOVED to do with my family and friends. So I combined my love for a tea party and succulent gardens to create this unique succulent tea party!
I have always loved tea parties since I was a little girl. I still have memories of holding my pinky finger up with my great Grandmommy and Grandma! I even remember dressing up with a fancy hat and feather scarf for a tea party while visiting my aunt in Georgia. Sharing this childhood memory with my brides is just so special to me. We even used my great Grandmommy's tea cup set! My mom, sister in-law, aunt, and grandma still meet up every few months to have a girls day at the White Oak Tea Tavern (now closed since the pandemic) for a spot of tea!
I was so excited once I had a theme and immediately contacted my talented baker friends to provide the cutest and most tasty desserts!! Yes I started planning dessert first because that is the best part right?? haha! I wanted to include some of my favorite desserts: Meringue, Macarons, and cupcakes! The pastel colors along with the succulent inspired shapes completed the look I wanted for the dessert table. I feel like our set up was out of a magazine and I am so glad I had the best detail photographer around to get the shots for this post!
I completed our lunch with Chickfila nugs and crocpot mac & cheese. It may not have fit the true British tea party food options but I know my brides enough to know that nuggets and mac & cheese were going to be better than those little sandwiches!! I also included some healthy options because I did have some 2020 brides there who are still on a wedding diet. After lunch we spent the rest of the time chatting and creating the cutest succulent gardens! I was so impressed by their creativity and knowledge of succulent gardens! In fact, one of my brides is now known as "the plant lady"!! So from now on I will be messaging her in the Facebook group for all my plant questions.
I had so much with these ladies and am so thankful that they made the trip in from all over Virginia!! When James and I first started this business we wanted to be more than "just a photographer" for our couples. The fact that some of our brides drove 2+ hours to join us for this tea party just brings tears of happiness to my eyes. We were finally able to spoil them outside of the wedding day which has been a huge goal for us. I'm so blessed to have been able to do this and support James and my wedding photographers (The Mullins Photo Co.) through using their beautiful new building, Atelier Studio!
I will say that some of the grooms were a little upset/sad they were left out of the fun… So after much discussion with the girls at the tea party, we have decided that next year we are going to host a get together for all the couples!! This way the guys can be included. I already have ideas for this event and can't wait to include the grooms and our new 2021 couples!
I am so blessed by these women and so glad they are in our little community! Enjoy the recap of our tea party at Atelier Studio & Gathering Place
---
Side note: James and I also decided to share our first ever copy of the Emily Hancock Bride Wedding Guide!! This special guide is FULL of information for the wedding day and exclusively for our EH Brides! I am sharing more about this later, so stay tuned!!.
I had to include a photo of the mess we made… it just means we had fun right?!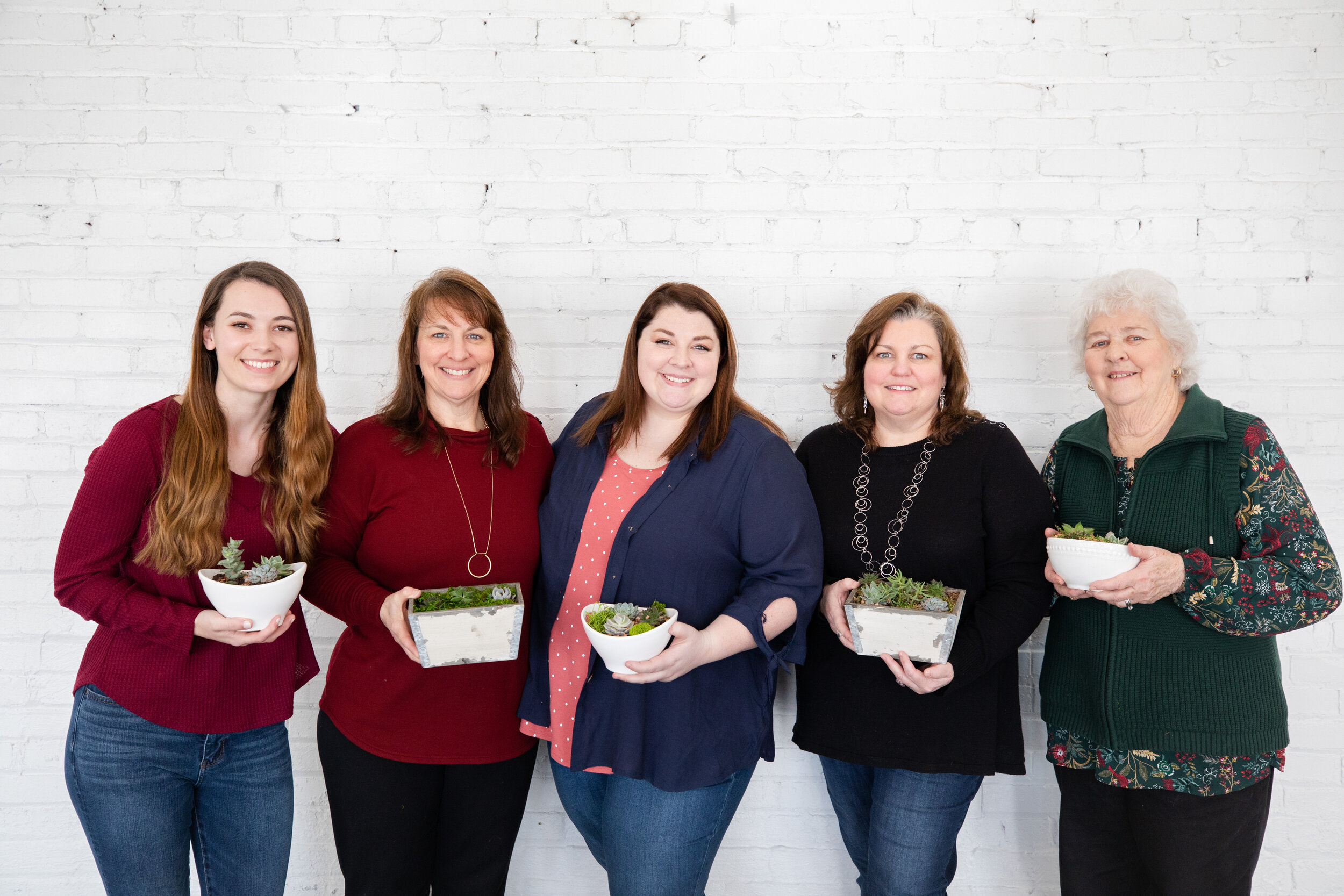 A special thank you to my Sister in-law, Mama, Aunt, Grandma, and James for helping me plan, set up, and tear down this event! Your constant support and love have been a huge part of my business journey up until now. I love you guys!!
THE VENDORS THAT MADE IT ALL POSSIBLE:
The Space
Venue: Atelier Studio & Gathering Space
Decor: Hobby Lobby
Table Runners: Amazon
Tea cups: My Great Grandmommy's tea cup set & my mom's set
Plants
Succulent Planters: Amazon and Hobby Lobby
Succulents: Succulent Source
All other Succulent Materials: Lowe's & Amazon
Food
Strawberry Basil Lemonade: James' Secret Recipe
Assortment of Teas: Ahmad British Tea and specialty teas from White Oak Tea Tavern
Chicken Nuggets: Chickfila (of course)
Croc pot Mac & Cheese: A Hancock Family Recipe
Cacti Meringue: Hilltop Cookie Shop
Cupcakes: Smith's Sweets
Macarons: Sweets by Stevie
I am looking forward to hosting my next event, this time with my past couples and their families! Join the EHP fam so you are invited!!!
Until next time,