Venues Mini Series | Charleston Wedding Photographer
---
As this mini series comes to a close, I am so excited finish up with my favorite place on earth: Charleston, SC!! James and I feel like this is our home away from home, in fact, we visit so often we feel like locals! I have been vacationing in Charleston for 10+ years with my family and have such fond memories. Ever since I started getting into photography it has been a DREAM of mine to photograph a wedding in Charleston, South Carolina. Maybe I can finally hit that goal in 2021 or 2022??
Even though this is WAYYYYYY beyond the 60 miles included in my regular experience, we are actually waiving all travel fees for CHS! So if you are looking to get married in Charleston, SC don't let my Virginia Wedding Photographer title scare ya!!
Enjoy browsing my favorite Charleston, SC wedding venue and if you are looking for some beautiful venues in Virginia definitely check out the previous post in the venues mini series here:
We are starting my favorite plantation!! Middleton offers such beautiful gardens to explore before dinning at one of my favorite spots for dinner. This is always one of our favorite touristy things to do in town!
This venue has a pretty epic view of the Ravenel Bridge over the Cooper River. It's also in the heart of downtown with the classic Charleston scenery!
The Spanish Moss is everywhere in Charleston but this venue has some really beautiful scenery for portraits!!
This venue is to die for in the spring time when all the Magnolias are in bloom!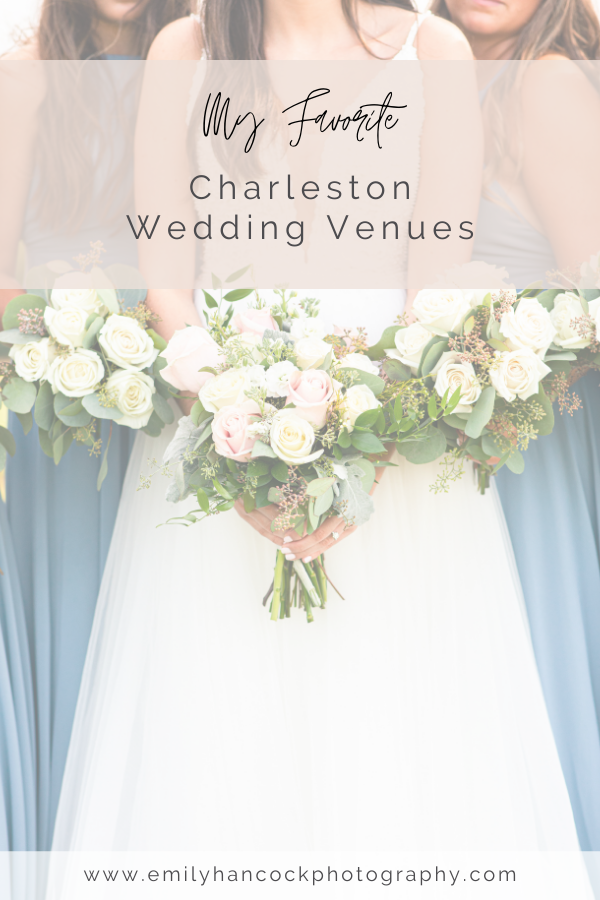 You may recognize this venue if you are a fan of the popular Netflix show "Outer Banks"! This is the place it was filmed!
Finishing up this Charleston wedding venues post is another plantation favorite!! Boone hall is exactly what I think of when I think of a classic southern wedding in Charleston, SC.
---
I hope that this information was helpful to all the newly engaged couples interested in a classic southern wedding! I cannot wait for the opportunity to photograph these wedding venues in our home away from home! Stay tuned for our next Wedding Wednesday with Em series post comin at ya soon!!
Until next time,
---
Learn more about our services here!
Hey there, I'm Emily! James, and I are a husband and wife wedding photography team based in Lynchburg, Virginia. We specialize in weddings and engagements and serve Virginia, DC Area, South Carolina, and beyond!
---
Browse the blog by Category:
Category

Anniversary Portraits

Bridal Portraits

Business

Educational

Engagements

Featured

Personal

Wedding
---
Engaged? Download this FREE Engagement Session Planning App for your phone!